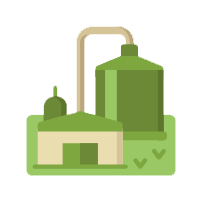 Industrial gases
Industrial gases are used in different fields according to the purpose. Depending on the customer's needs and specifics, the gas is delivered to the customer either in cylinders or in a liquefied container.
The main products are oxygen, nitrogen, argon and carbon dioxide, as well as combustible gases such as propane and acetylene.
Gas mixtures are also often used in various industrial processes as shielding gas or for better efficiency.
Additional information
For more information, contact the contacts below or visit our store
Shop in Pärnu
Suur-Jõe 67 Pärnu 80010
Open
E-R 08:00-18:00, L 10:00-15:00
Phones:
+3724478477
+37256622123
E-mail:
[email protected]
See more: